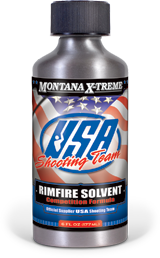 Olympic-Grade Cleaning for your .22 Rimfire
Top benchrest competitors will tell you that regular cleaning is the key to maintaining top accuracy and reliability in .22 rimfires. At their request we created our Rimfire Solvent, designed specifically to remove lead, wax and powder fouling from .22 rimfires. As an official supplier to the United States Olympic Team, Montana X-Treme is helping our shooters bring home the gold by contributing a dollar for each bottle purchased.
Soak a patch in Montana X-Treme Rimfire Solvent and from the receiver end, push the patch through the bore.
Soak a brush in Rimfire Solvent and work through the bore approximately 20 times.
Repeat step 1 and 2 until fouling is removed.
When satisfied bore is clean, run two dry patches through the bore.
Add a small amount of Montana X-Treme Bore Conditioner Oil to a patch and run through the bore two times. Ensure that you do not leave a heavy amount of oil in the barrel.
---
Available in 6 oz. bottles
OTHER PRODUCTS TO USE WITH USA RIMFIRE SOLVENT: